As if catching big bass wasn't enough, we are now taking groups to do both… at the same time. That's right, Tigers and Bass lurk the waters of Lusip Dam in Swaziland with some formidable size bass I might add.
The lodge is situated about 150 m away from the water's edge with access through a gated property to launch the boats. The yard space is massive and can even cater for camping guests as well. There is an outside rustic style bathroom with a shower, basin and toilet.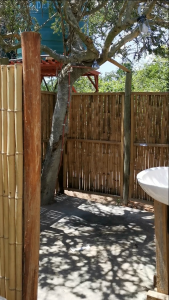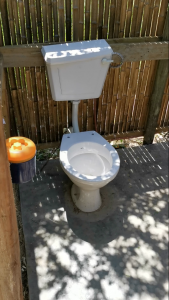 The log cabin has a wide open front deck overlooking the lush greenery behind which lies the dam. There are 3 bedrooms and one bathroom inside as well as a lounge and open plan fully equipped kitchen. In the kitchen there is an upright fridge/freezer as well as a chest freezer. Hot and cold water are available.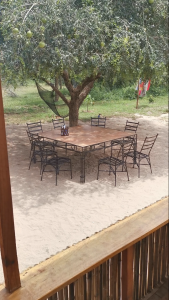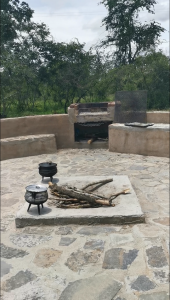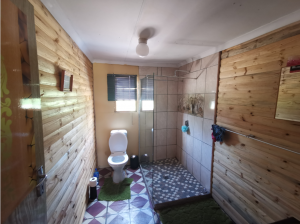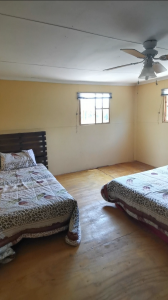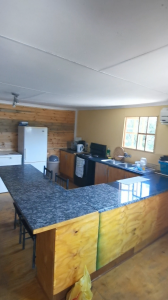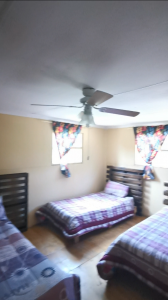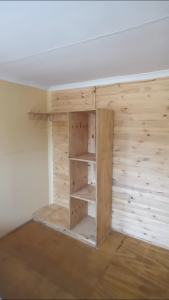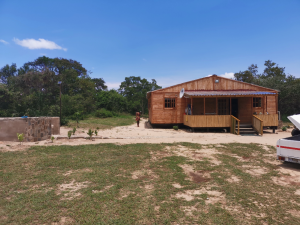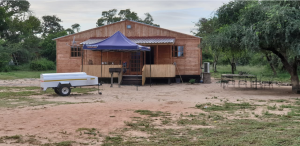 The cabin can cater for 10 people sharing or otherwise 7 sleeping separate.
Bedroom 1: 1 double bed + 1 single bed
Bedroom 2: 1 double bed + 1 single bed
Bedroom 3: 1 double bed + 2 single beds
DSTV and A/C is also available in the lounge.
Just outside the cabin is a large boma area with a fireplace and built in braai for relaxing under the night sky. Situated outside is also a large sqaure dining table with chairs for you to enjoy a breezy meal while listening to the sounds of the rustling leaves and singing birds.
For fishing there are 2 boats with petrol motors. These boats are for use at your own risk, and require 2 stroke oil mixed with the fuel (50:1 ratio petrol:oil). The bass boat can carry max 2 people while the yellow boat can carry a maximum of 3 people fishing. There is one battery per boat for cranking.
When staying at the cabin there are extremely obliging and friendly assistants who will help you do everything, from unpacking your car, launching your boat, cleaning and even preparing meals. The assistants stay on the plot and are there for you whenever you need them.
FULLY CATERED Option:
The package includes:
Boat hire with fuel (max 20litres per boat per day)
Comfortable accommodation in the rustic log cabin
All meals and boat snacks
Assorted selection of unlimited beverages (see T's & C's).
Permits for launching from the respective authorities
Transport is excluded from the package but can be arranged at a slightly additional charge. Please I urge you to get in touch via email or whatsapp and find out how this works before making any other arrangements.
Self Drive Option:
Choose your own dates.
Prepare the route and all your gear, luggage and food. Obtain your permits from the SWADE office at the dam.
The preferred border to use is the Oshoek border (N17). Drive to Siphofaneni town where you will then continue on the main road just pass the dam wall on your right. Take the first gravel turn right and cross over the irrigation channel. Take a left turn and then follow the sign towards P&Z. Go past the P&Z lodge which is on your right and continue through 2 trees (forming a V shape which the road passes through). Keep right and do not turn into any drive ways. Keep looking left after the V-shaped trees and about 200m on you will see the cabin through the trees. You have arrived!!
NB: if you pass a big red sliding gate on your right you have gone about 50m too far.  Reverse and the cabin will be on your left.
To book call, SMS, or WhatsApp me or drop me a mail. You must specify your arrival and departure date, how many boats you will need (1 or 2) and for how many days.
Live bait is charged per fish and payable to the helper directly who catches them for you. This is subject to availability, no guarantees. I will need about 2 weeks notice for any live bait orders so they can be caught in advance and kept alive for you.