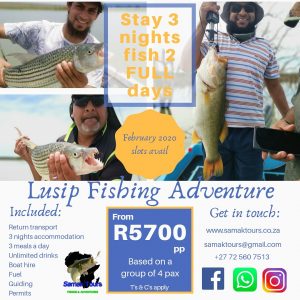 As if catching big bass wasn't enough, we are taking groups to do both… at the same time and in the same place. That's right, Tigers and Bass lurk the waters of Lusip Dam in Swaziland with some MEGA size bass I might add.
We offer this adventure as a fully catered package or as a self catered option.  Each option can be tailored to suit your needs and budget. The fully catered option can be further broken to include or exclude return transportation. With the fully catered option maximum group sizes apply. Singles or small groups may be joined together to form a single large group which brings down costs for each member.  Although quotes for fully catered trips are given on a per person basis based on a fixed group size, guests can choose to receive a quotation for a small group catered for privately.
A typical fully catered trip means you don't have to do anything because all your catering needs, both on and off the water, will be taken care of. You will also be personally guided throughout the day on the water as we target bass and tigers at different locations on the dam. The day out on the water is hassle free for you the guest as you will be shown step by step how to rig up your gear as we target each type of species using varying strategies. Furthermore the fully catered option also includes up to 20litres of fuel per day per boat, oil for the motors, wet bait (i.e. sardines or chicken hearts), guiding fees as well as launching and launching fees with fishing permits. Live bait is not included but can be arranged depending on availability. This is usually caught by local fishermen using cast nets and is charged for per fish.
Since Lusip dam, AKA Lubovane dam, is growing in popularity among keen flyfishermen, bait fishermen and other holiday makers, there are a number of new lodges coming up around the dam. Generally the comfort rating is basic among all lodges with some offering camping facilities as well. There are very few places that offer additional entertainment facilities such as swimming pools.
Samak Tours has been visiting this dam quite often with guests and we have partnered with many of the lodges to offer you a wide variety of choices when it comes to accommodation.  We can cater for the needs of a group size of 2 up to 6, all staying in one place. If a large group is made of smaller sub groups who wish to stay separately we can arrange that too.
The ideal standard time to spend out on the water fishing is 3 full days, with some groups choosing more than 3 days fishing, however 2 days fishing is minimally sufficient and is preferred for those who wish to do an express get away or budget trip. The number of nights accommodation required is the number of FULL fishing days PLUS ONE. So for 3 FULL days fishing for example, 4 nights accommodation is required.
Typical itinerary for a 3 day FULLY CATERED trip
Day 1:
Day of travelling. We reach the lodge at approximately 2pm (depending on departure time). Check in and explore the local area. Guests can choose to siesta or go for a swim to cool off after a long 5 and half hour drive from JHB. Breakfast and lunch is served on route. After sunset a hearty cooked up meal is served for dinner and its early to bed.
Day 2 and 3:
A light breakfast with Tea, croissants, cereals, biscuits and cakes is served. Thereafter the fishing gear is packed into the vehicle and loaded onto the boats. A cooler box with plenty of refreshing beverages & snacks as well as a lunch box of finger foods is also loaded per boat. Boats can accommodate a maximum of 3 anglers each, with 4 being quite a squeeze. The entire day is spent fishing. Back at the lodge a delicious braai is prepared with enough food to fill a hungry lion's belly. Tea is also prepared before retiring to bed after a long day in the hot African sun.
Day 4:
The breakfast table is laid with delicious eggs and sausages / viennas / polonies or omelettes along with cakes, pancakes, croissants, cereals, etc… The luggage is packed and the long ride back home begins. Lots of laughter fills the air as we go home as family. Before we cross the border into SA we make a quick stop at the local fruit market to purchase the famous swazi pineapples, avocados and mangos to enjoy with our loved ones as we share with them the lifelong memories that we made on this adventure.
For more information on this and other options please feel free to get in touch. The most effective way to contact us is via whatsapp. Alternatively you can follow our Instagram or Facebook page and drop us a DM. Lastly you can even contact us via email. We would love to chat about adventure in Africa so do not hesitate to ring us up!