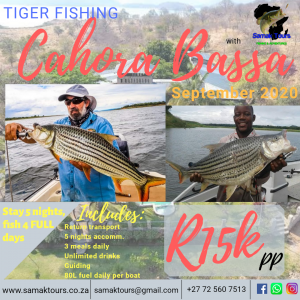 Tiger fish are endemic to Africa. The largest population of tigers probably occur in the Zambezi river system, which strarts in Zambia and runs a very complex course through parts of Angola, Namibia, Zambia, Botswana, Zimbabwe and finally drains into the Indian Ocean on the shores of Mozambique. There are 2 major lakes (man-made lakes) that are supplied by the Zambezi river, Lake Kariba and Cahora Bassa.
Cahora Bassa is in the Tete province of Mozambique. Our adventure to Cahora Bassa is to target and land some of the Zambezi's largest tiger fish. These are caught using a wide variety of baits from artificial to fresh baits. Like all of our adventures into Africa, this is fully guided and we offer a fully catered package as well.
A fully catered package includes meals, drinks, guided fishing, accommodation and we can even offer return transport by road. The journey to Cahora Bassa is long as we travel through Zimbabwe and can take more than 20 hours of driving time. Once checked in we will enjoya 5 night stay with  4 FULL days of action-packed fishing with a very good chance that anglers can land 20lb tigers or heavier. These waters are deep, and our expert guides know all the right honey holes to put anglers right in the action.
Our latest trips are often advertised live as the specials come up, however trips can be booked for self drive throughout the year. Simply get in touch with our friendly team via our various media platforms. We always love hearing from you so don't waste another minute, get chatting today.